Statement from Andrew Mathews:
"I am humbled and grateful to be the Republican candidate in Senate District 15! I want to say thank you to everyone who came out to vote, all the volunteers who worked tirelessly for this campaign, and a big thank you to my family for all their help and support. I am very excited and looking forward to continuing to earn the support of my district and representing them at the capitol to work for our transportation needs, energy needs, our farmers, our businesses, and other issues that are important to this district. I am truly grateful for this opportunity."
---
Vote Andrew Mathews on November 8th!
Find your polling location by clicking here.  You can also vote absentee via mail or in-person at your county courthouse.
Vote for your GOP-endorsed Candidate who will stand for:
– Fiscal Restraint
– Keeping Government within its means
– Lower taxes
– Pro-Life issues
– Lake Mille Lacs
– Pro-jobs Economy (Saving Sherco Power Plant)
– 2nd Amendment Rights (received an "A" rating from the NRA!)
Don't elect someone looking for power, but someone looking to serve.  Vote Andrew Mathews for State Senate District 15 on Tuesday, November 8th!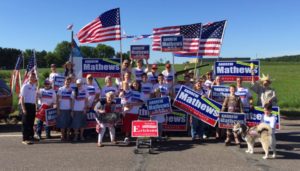 ---
Watch this important message to the Delegates and Alternates for the Endorsing Convention!
Video 1 of 4 (Introduction):
Video 2 of 4 (My Pro-Life Message):
Video 3 of 4 (Why I will stand strong):
Video 4 of 4 (The Importance of Relationships & Being Ready on Day 1):
——————————————–
March 1, 2016
2016 Caucus Letter
Dear Friends,
Thank you for attending your local 2016 Republican Caucus!  People like you are the troops on the front lines of those who care about our communities, our state, and our nation.  You want to see our strong Constitutional values upheld, protected, and promoted, and I'm glad that you're involved.
Since I announced last fall that I am running for the State Senate seat in Senate District 15, I've enjoyed talking to many people around the district and am grateful for the support that many of you have already given.  For those of you who don't know me, or whom I've not spoken to yet, let me give you an introduction.  I am a part of the next generation of strong conservatives who sees that our country is headed down the wrong path, and wants to stand up and speak out for truth and for our God-given liberties.
Growing up, I did everything from working retail and farm work, to volunteering, ministry leadership and missions work.  After Bible School, I obtained a pastor's license and served as pastor of a small local church, because I care about people and desire the very best for their lives.  I have since completed law school, and often was working full-time while doing classes full-time, and completed my education with no parental assistance and no debt.
My desire to help our country started at a very young age.  Long before I could even vote, I was very involved helping conservative candidates get elected, and studying numerous policy issues facing our generation.  I've been a BPOU chair and committee member for over a decade, and I've spent a lot of time and effort working to get our conservative Republicans elected on multiple levels.     
Those of you who know me know that I am passionate, committed, and energetic about representing you in St. Paul.  Our State and Nation have a bright future ahead, and we need a Senator who will be a persuasive communicator, and who will take a principled stand for our Constitutional freedoms.
I will fight to reduce the debt and spending that is damaging our future generations.  I am staunchly and unapologetically pro-life, and will always stand up for the 2nd Amendment.  I support educational accountability, school choice, and parental control over our children's education.
You should elect a Senator who is not looking for power, but is looking to serve.  I am running to serve you and every person in our district, to stand up for Constitutional conservative values, and to listen to the people's concerns.  I want to earn your support as your candidate for the State Senate at the endorsing convention on March 19th.
For Liberty's Cause,
Andrew